Meet Mage and Dodger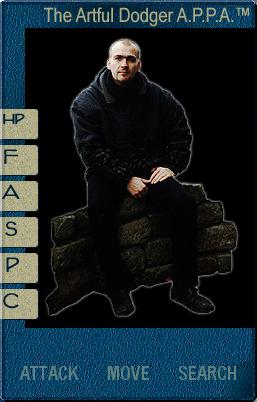 Between the 4th and the 8th of November 1998 I, The Artful Dodger, had to go on a work trip to England (I live in germany myself). Having the opportunity to spend two days (the weekend there with spare time) I contacted Neuromage (who is currently living in England) to have us meet up in real life.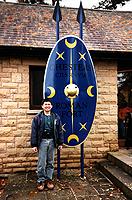 We met us in Newcastle in the north of england. It's a nice city with a really tiny castle in it (you almost miss it looking for it). We were walking on historical ground there with the Hadrian's Wall right beneath our feet, so we decided to go on a trip to the countryside to see some of the remains of the once glorious roman empire.

We had a really swell time. I never drove an english car before (steering wheel on the right side of the car) and so Mage had to scream everytime I came to close on his side of the street. I just wasn't used to having that much car on the left from the wheel. I also nearly broke my right wrist banging it against the car door when I searched for the gears (which were, surprise, surprise, on the other side of the steering wheel now).
Anyway, I mastered it without killing anyone, so I guess it was ok (had to drive some roundabouts several times though - I never knew which way to look - the rear view mirror was on the other side now as well - confusing as heck).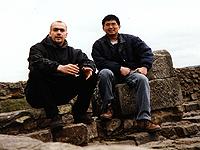 We visited the Corbridge Roman Site which was a garrison town, flourishing until the 5th century. They had floor heating and other nice gimmicks (like air vents beneath the granary to avoid mold.). Mage simply HAD to be photographed next to a roman column since they donn't have those things in Singapore (I guess he will sent that photo as X-mas cards to his pals at home :). Then we moved on to see yet more old stones at Chesters Fort. There we finally saw some remains of Hadrian's Wall and a kayak owner nearly drowning.
Later in the evenings we saw pubs and bars, but that's an entirely different story...
Next thing will be my visit to Crash (all the way to South Carolina) over New Years Day.