Meet Crash and Dodger
..and Mary and Niklas and John and Alyssa...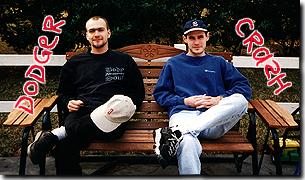 After Dodger met Neuromage in england there was only one thing left to do: Going to america to meet Crash and his wife Mary (known as Blowfish APPA). Preperations for that trip started months ahead with finally settling the trip around New Years Eve. So The Artful Dodger invaded american airspace and celebrated New Years Eve 1998 with the Hoppers! The whole trip lasted from the 29th of December 1998 to the 17th of January 1999. Plenty of time to look around the place (South Carolina) and to have a whole lotta fun.
Although Mary was suspecting trouble, having three taurus' in the house, everything went fine (only problem being the missing second Computer, so that Dodger could not play in the first Faction Wars clash).

Of course it was even more fun when Sr. Guide - John G. and Sr.Guide - Alyssa (also commonly known as Castle and Guard Juxta of the Howling Strike Force) managed to come over from Georgia for a pizza and some pool billiard (be warned - the years of service made John one really mean billiard player)! We had a cool time talking about the upcoming Faction Wars and the things we want to set in motion in the next few months (the pizza was just fine too :). Can you believe? They drove 10+ hours just to meet us in real life? Awesome!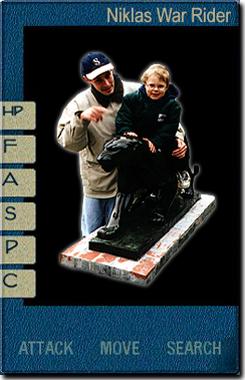 Later on the Hoppers abducted Dodger to visit a really huge garden (one of those railroad tycoons built it for his daughter), with hundreds of statues, real animals, etc. etc. It takes ages just to have a quick look around.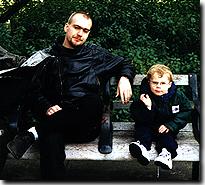 One more traveller in our group was Niklas, the Hopper's 2 1/2 year old son. He enjoyed himself quite well in the garden as you can probably tell from the pictures.

Dodger got his first haircut on american soil and, also for the first time, participated in completing a 3D-puzzle, discovering that he is not only a fanatic Chron X™ player but also a compulsive puzzler (shame on him). We went to see the atlantic ocean, had fun at the Coastal University, where Crash and Mary are studying, saw the Hard Rock Café at the Beach and just had a splendiferous time (and Dodger could replenish his Asprin supplies as well - golly gee :)!